Company Profile
Osaka Stainless's mission
Osaka Stainless's mission
Osaka Stainless's mission
Fast, flexible responses to customer needs
Osaka Stainless's business activities are broadly divided into three core areas.
Firstly, "Metal materials and products"—we have a vast stock of metal materials that are hard to find, such as some grades of nickel alloys and stainless steel.
Secondly, "Processing services"—we can manufacture various types of metal parts that are processed not only in-house but also in cooperation with our domestic and overseas partner factories, in response to small-lot through to large-lot orders.
Finally, "International trade"—our extensive global network of distributors and suppliers allows for further global expansion of our businesses.
Concentrating on these three core business areas, Osaka Stainless continues to provide high quality products and services based on the strictest lot control and quality management with the aim of achieving the highest level of customer satisfaction.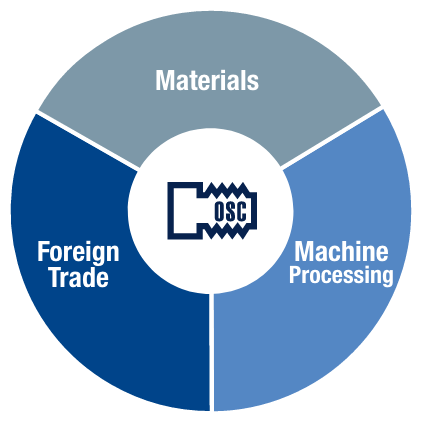 Solid bridge between manufactures and customers
Osaka Stainless carries stainless steel and nickel alloys for use in the harshest corrosive environments in various industries such as plants, petroleum refineries, power generation, aerospace, pharmaceutical, marine structures, electronics, and semiconductors.
We deliver products supplied by a variety of domestic and overseas sources—including blast/electric furnace manufacturers, secondary processing manufacturers, and metal material wholesalers—right through to domestic and overseas plant/industrial equipment manufacturers, metalworking companies, and metal material distributors. Through its strict lot control and quality management as well as the support for small-lot orders and fast solutions, Osaka Stainless endeavors to act as a solid bridge between the manufacturers and end users.
マーケットポジションMarket Position