High precision processing of challenging materials
Support for orders of individual units through to large-batch orders
In our metal processing business, the Kawaguchi Processing Center and our solely-owned factory in Fujian, China (Yaga Metal Products Co., Ltd.) in cooperation with our domestic and overseas partner companies provide metal processing services of difficult-to-machine materials including nickel alloys, stainless steel, titanium, and cobalt alloys—from small-batch right through to large-batch orders. We also stock off-the-shell products such as bolts and nuts made of nickel alloys or duplex stainless steel, so that we can deliver those products within a short time.
ISO 9001-based quality is ensured through inspections with state-of-the-art optical instruments.
From PMI tests (inspection of materials) prior to processing to the pre-shipping measurement of dimensions and shapes (plus intermediate tests depending on the product), Osaka Stainless maintains a very strict inspection system to improve its quality management in compliance with the requirements for ISO9001 certification. A variety of optical instruments such as a CNC coordinate measuring machine, image dimension measurement system, profilometer, and PMI testing machine (inspection of materials) enable finished products to be inspected at a resolution of 1 micrometer. Thorough process control is implemented every day using total traceability from receiving through to shipping of materials to fulfill the goals: "No Material Mix" and "No nonconforming products."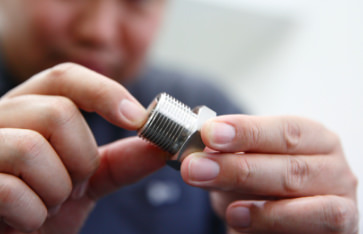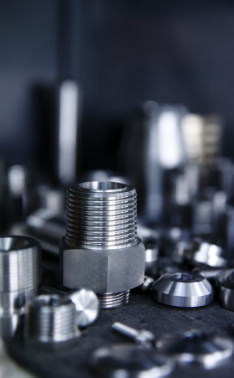 Our proven track record in a wide range of industries proves our advanced processing technologies.
We have supplied processed products to various industries that include those involved in energy production, plants, semiconductors, and rolling stock.
Processing Service Examples
Processing using an NC lathe or a machining center, thread cutting, hole punching, polishing, forging, welding, bending, heat-treating, electric discharge machining, wire cut electric spark machining, etc.
Industries our customers are involved in
Examples of processed products
Inquiry/Request for information
Business hours: 8:00 to 17:00※closed on Saturdays, Sundays and National Holidays
TEL 81-6-6586-5626FAX 81-6-6586-5858